Pizza Dough Recipe
The real Pizza dough recipe is very easy to prepare.It is very important to carefully follow the original recipe if you want obtain a pizza easy to digest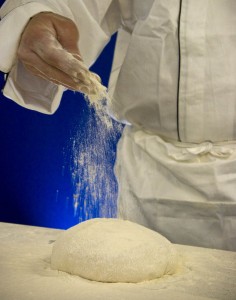 Ingredients:
Water (cold), 1 litre (1000ml)
Sea Salt 50g
Fresh Yeast 10g (OR dry yeast 5g)
Flour 1.7kg/1.9kg depending on strength – plain flour or 00 (double zero flour)
Method:
Day Before Cooking:
Pour water in a mixing bowl.
Add salt, and dissolve in water.
Add yeast to water and dissolve.
Slowly add the flour to the water and mix by hand until a ball is formed.
Remove from the bowl and place on your work bench, knead by hand for approx 10 mins.
Dough should be a nice spongy texture-not too sticky or hard, add extra flour if necessary.
Cover the dough with a plastic wrap, or coat dough with olive oil. Rest for 10 to 15 mins.
Portion dough into approx 200g to 250g and round into balls.
Place the balls into an air tight container and refrigerate overnight.
Day of Cooking:
Remove pizza dough balls from refrigerator 2 to 3 hours prior to making pizzas, allowing dough balls to prove at room temperature. After which the dough balls should be ready to hand stretch into your pizza bases. A smooth surface is required for stretching your pizza base, marble or granite bench-top is ideal. Sprinkle some flour on the bench before stretching.
Place the pizza base on the flour and add your toppings.
Use a wide paddle to scoop the pizza off the bench and place it in the oven.
When the pizza starts to brown it can be turned in a circular motion with a small round pizza peel.
The pizza should take approx 3 minutes to cook and can be taken out of the oven with the small round pizza peel.