Valoriani Oven with Gas Burner Passes the Test!
Spitfire gas burners and known for their quality worldwide and now you can add the convenience of gas to your Valoriani oven. The burners are safe and user-friendly and have been approved by the AGA (Australian Gas Association) for use in selected Valoriani models. The burners are designed to replicate wood burning with high performance and baking quality but lower operating costs and heating times.
The spitfire gas burners are now available in Valoriani's most popular model ovens: GR120, GR140, IGLOO120, IGLOO140, OT120 and OT140 and are available for LPG or natural gas. The unit comes with 10 burner jets that create a constant flame within the oven and maintains a steady temperature for predictable cooking results.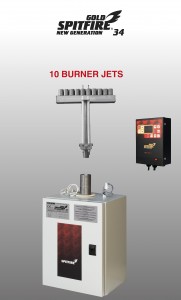 The control panel includes temperature display and options for advanced heat control with touch of a button. The extra heat blast function allows you to rapidly raise the temperature inside the oven or speed up the initial oven heating time.
The Valoriani ovens are the only gas powered oven that is approved by the True Neapolitan Pizza Association (Associazione Verace Pizza Napoletana, AVPN). This means that the ovens can be used make traditional Neapolitan style pizzas that meet the strict guidelines set by the association.
For more information on the gas burners for Valoriani ovens please contact us today!